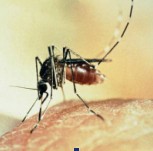 Inyo Mono Health Officer Dr. Rick Johnson wanted to remind everyone that the coming of mosquito season brings with it the possibility of West Nile Virus.
Mosquitoes are annoying for many reasons, and West Nile Virus just happens to be a dangerous reason to dislike the bugs. Originally from Africa, West Nile Virus was first found in the United States in 1999, Dr. Johnson reports. Since that time, people and horses across the country have caught the serious and potentially fatal disease.
Mosquitoes spread the virus, but Dr. Johnson reports that West Nile Virus is found in many species of birds. The virus is spread after a mosquito feeds on an infected bird, than takes its next meal from a person.
No West Nile cases have been found in the Eastern Sierra so far this year; but Dr. Johnson reports that so far this year, 18 birds have tested positive for the virus in California. Symptoms start 3 to 14 days after a mosquito bite and include high fever, headache, neck stiffness, other flu like symptoms, vision loss, convulsions and others. In severe cases the neurological effects may become permanent. Dr. Johnson reports that in about 80% of the West Nile cases, the person does not show any symptoms.
The best defense against the West Nile Virus is to avoid mosquitoes. Long sleeve shirts, pants, and bug juice are recommended for those who head outdoors when mosquitoes are most active around dawn and dusk. Check the screens on your windows and doors to keep the bugs out of the house and eliminate standing water on your property to cut down on places where mosquitoes can breed.