The following is a press release from Inyo and Mono County Heath Officer Dr. Richard Johnson:
In the last few days, evidence has accumulated that indicates West Nile virus (WNV) season is upon us: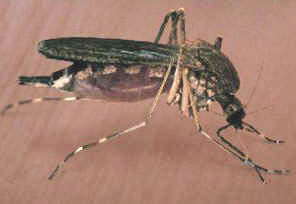 – The California Department of Public Health reported the first confirmed human case in an individual from Santa Barbara County, who after hospitalization is now at home recovering.
– Jerry Oser of the Owens Valley Mosquito Abatement Program in Inyo County has reported a positive mosquito pool, collected near the Bishop Airport.
– Steve Ganong of the Mammoth Lakes Mosquito Abatement District in Mono County reports numerous traps with high numbers of Culex Tarsalis mosquitoes, an efficient vector (carrier and transmitter) of the virus.
 So far this summer, there have not been any equine (horse) cases in California, but evidence of the presence of the West Nile virus has been reported from 17 counties (positive dead birds, chickens, or mosquito pools). This is somewhat less than last year. However, don't be lulled to sleep by the low numbers – with our late spring and summer, the worst is yet to come.
West Nile virus is most commonly transmitted to humans and animals by the bite of a mosquito harboring the virus. The risk of serious illness to most people is low. However, some individuals – less than 1% – will develop severe neurologic illness such as encephalitis or meningitis. People 50 years of age or older have a higher chance of getting sick and are more likely to develop severe symptoms and to die. Recent data also indicate that those with diabetes and/or hypertension are at greatest risk of serious disease.
What Should You Do?
We recommend that individuals prevent exposure to mosquito bites and West Nile virus by practicing the "Four D's":
– DEET – Apply insect repellent containing DEET, picaradin, oil of lemon eucalyptus or IR 3535 according to label instructions. DEET can be used safely on infants and children 2 months of age or older.
– DRESS – Wear clothing that reduces the risk of skin exposure to mosquito bites.
– DAWN AND DUSK – Mosquitoes bite in the early morning and evening. Therefore it is important to wear repellent at this time. Make sure that your doors and windows have tight-fitting screens to keep out mosquitoes. Repair or replace screens with tears or holes.
– DRAIN – Mosquitoes lay their eggs on standing water. Eliminate all sources of standing water on your property, including flower pots, old car tires, rain gutters, and pet bowls. If you have a pond, consider using mosquito fish or commercially available products to eliminate mosquito larvae.
What About Your Horse?
For you horse lovers/owners, remember that WNV continues to be the most important cause of mosquito-borne neurologic illness among horses in California. In 2010, WNV infection was detected in 19 horses from 20 counties, with five (26%) of them dying or being euthanized as a result of their infection. Diagnostic testing of clinically affected horses is available free of charge – contact us for more details. Horse owners are urged to ensure that their horse's WNV vaccination status is current, as vaccine provides a high level of protection.
For More Information:
For the latest information, please go to one of the following Web sites:
www.westnile.ca.gov
www.cdfa.ca.gov/AHFSS/Animal_Health/WNV_Info.html
To report dead birds:
Californians are also urged to report all dead birds and dead tree squirrels on the West Nile Website, or by calling toll-free 1-877-WNV-BIRD (968-2473). Your report will be recorded into a database. However, it is unlikely that the animal will be picked up for testing.