For the first time this summer, mosquito control officials have detected a mosquito that tested positive for West Nile Virus infection.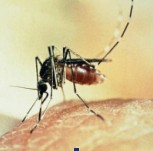 The mosquito pool was collected on August 20th from a trap behind the Mono County maintenance yard off South Landing Road in the Crowley Lake area. The Hilton Creek Community Services District hired Steve Ganong from the Mammoth Lakes Mosquito Abatement District to do mosquito trapping and surveillance.
Ganong, along with Tim Howard from the California Department of Public Health submitted four mosquito pools for testing, one of which was positive. The positive pool included 18 of the type of mosquito that carries viral disease, including West Nile virus.
Now, Mono Health officials and others are discussing an appropriate response. They will reveal any action plan to the public in the Crowley area. Health Officer Dr. Rick Johnson said that this is the first positive confirmation of West Nile in Mono County this year. Dr. Johnson called this an unusual finding, especially considering the relatively quiet year for West Nile Virus activity in the rest of the state and country.
Only 3 dead birds have been reported in Mono County this years, one of which was tested and was negative for West Nile Virus. Mosquito trapping in Old Mammoth has not resulted in enough mosquitoes to submit for testing.
Even though activity is very low, health officials urge residents and visitors to protect yourselves from mosquito bites with an insect repellent, elimination of standing water on your property, careful installation of window and door screens, and use of long sleeves and pants, especially at dawn and dusk.