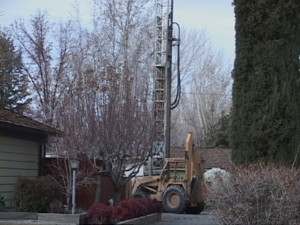 Reports are now out that a number of private wells in West Bishop neighborhoods have dried up. Residents, alarmed at these developments, are questioning why after 50 years, in some cases, are their wells suddenly dry?
At Tuesday's Inyo Supervisors meeting, Water Director Bob Harrington told Board members, some of whom knew about the dry wells, what he knew of the situation. He said that one of the Department of Water and Power's wells, number 407 in West Bishop, had been running longer than usual to supply stock water. Could that groundwater pump have drawn down the private wells? Harrington said he contacted DWP and plans developed to turn off the well to see if any groundwater recovery occurred in a nearby monitoring well, one thousand feet away.
Harrington said it appeared the well shut-off made no difference in the groundwater table. He concluded that a lack of water re-charge may have affected the water table and the wells, many of which only went down some 30 feet. Trouble is, the wells had never gone dry before. Why now?
Harrington and others have pointed to the fact that many water ditches and ponds in West Bishop had dried up this past summer. Now, wells are drying up. Maybe a lack of re-charge led to the problems.
One resident of Highland Dr. in West Bishop, Denise Morrill, said she had noticed four or five wells that have gone dry on her street and that well rigs have been visible in other areas around Barlow Lane. Morrill pointed out that wells were drilled in the 60s and now have problems. She wants to know what happened to the groundwater levels, and it's an expensive fix – up to $20,000 for a new well.
Morrill, like other residents, wonders why this is happening. We have contacted DWP for a response to their part in the management of Bishop Creek drainage water this past summer.