A recent event in southeast Inyo County shows just how fragile the water supply in the desert can be and how marginal the county budget can be when it comes to something as essential as a toilet. Starting the Tuesday after Memorial Day, the County owned Community Center in Tecopa ran out of water.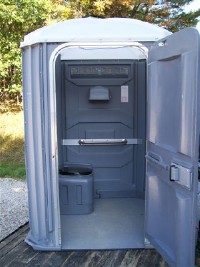 The water for the community center comes from a spring, but County Environmental Health Director Marvin Moscowitz says the underground aquifer in the area is meager. The water ran dry when a neighbor tested a new groundwater well for a home. After pump testing the new well at 400 gallons a minute for a few hours, the aquifer in the area dropped enough to dry out the spring that supplies the community center for the better part of a week.
Moscowitz reports that in 115 degree weather, the community center did not have water to run swamp coolers, sinks, or flush the toilets. Adding insult to injury, the county is at the end of their budget cycle and being short of cash in hand could not afford to pay for portable toilets. With no toilets on the way, the county shut the community center down on Friday.
The Center was re-opened after the spring recovered on Sunday, but Moscowitz says this is the second time in about a year that a new well has drawn the aquifer down far enough to dry the spring. It just goes to show that the source and supply is pretty fragile, he says. A well for the community center, rather than the spring, is one possible way to solve the problem, according to Moscowitz.