Loving mother, grandmother, aunt and friend Jean Weisenberg passed away on Monday on February 15th 2016. Her passing was peaceful, at home, with family at her bedside. Jean was 92 years old.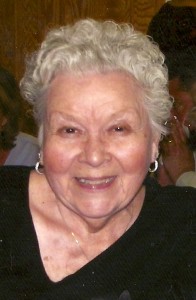 At the time of her passing, Jean was the eldest member of the Bishop Paiute Tribe. She served the Bishop Tribe well, having worked on many committees including the Planning Committee, the Governance Committee, Owens Valley Housing Authority, California Indian Manpower Consortium, the Bingo Committee, Bishop Indian Utility Organization and the Owens Valley Paiute Shoshone Cultural Center.
Most of Jean's jobs were of a clerical nature. She worked at the Inyo County Courthouse in Independence for many years. After that she worked for the State of California in the EDD office in both Bishop and Mammoth Lakes. She also worked for the US Forest Service and the Inyo Council for the Arts.
She is survived by her daughter April and sons Kendall, Spencer. She was preceded in death by her husbands Frank Weisenberg, Kenneth Billips, her dear sister Clara Fields and her eldest son Roane. She has seven grandchildren and seven great grandchildren. Jean had a close relationship with all of them.
Jean was a fun person to be around, and enjoyed the company of people. Life was a party for her and we're sure she would like you to come to one of her end of life celebrations. Feel free to choose any or all of the events to honor her time on earth. We know her soul continues onto its next adventure, and she would enjoy looking down to see you celebrate with us.
All of the events will be on Saturday March 12th, 2016
At 11:00 AM: Memorial Service:
Oasis of Grace (Foursquare Church)
528 Central Ave
Bishop CA 93154 (Behind Bank of America)
At 12:30 PM: Pot-Luck:
VFW Post 8988
484 Short St
Bishop CA 93154
At Dusk: Cry-Dance:
Jean's Home
2707 West Line St
Bishop CA 93514 (Near Burger Barn)