Press releases
Beginning Thursday, September 7th, the mandatory Reds Meadow Shuttle from the Adventure Center at Mammoth Mountain Ski Area through the Reds Meadow Valley will end its daily service.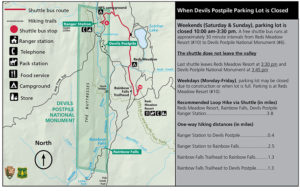 However, due to the extremely limited parking available in the valley, the Eastern Sierra Transit Authority (ESTA) will run a complimentary weekend intervalley shuttle service this fall, starting September 9th and continuing through until Sunday, October 8th.  This service will reduce vehicle congestion on the road, which has made it difficult to travel throughout the valley in previous seasons.
The intervalley shuttle will run from the parking area at Reds Meadow Resort to Devils Postpile from 10:00 am to 3:30 pm on Saturdays and Sundays. The Devils Postpile parking lot will be closed during this time and visitors will be directed to park at Reds Meadow Resort and take the bus to the Devils Postpile.
FROM ESTA
A free shuttle will operate on weekends beginning September 9th providing service between Reds Meadow Resort and the Devils Postpile Ranger Station.
The shuttle will operate from 10:00am until 3:45pm and will alleviate overcrowded parking at Devils Postpile. On weekends, from 10am to 3pm, parking will be available at Reds Meadow Resort, and the free shuttle will provide a means to travel to and from Devils Postpile Ranger Station.
The shuttle will also make it possible to thru-hike between Reds Meadow Resort, Rainbow Falls, and Devils Postpile. From Reds Meadow Resort, it is possible to hike direct to Rainbow Falls, direct to Devils Postpile, or to Devils Postpile via Rainbow Falls.
The free shuttle makes it possible to ride back to your car from Devils Postpile, or to reverse the order and ride to Devils Postpile then hike back to Reds Meadow Resort via Rainbow Falls.
In addition to the free intra-valley shuttle, one round-trip per weekend day will be operated from the Town of Mammoth Lakes to Devils Postpile and Reds Meadow Resort. This bus will depart the Mammoth Park & Ride bus stop on Old Mammoth Road at 9:00am, the Village on Canyon Boulevard (by the Bike Park Shuttle loading area) at 9:05am, and will arrive at Reds Meadow Resort at 9:55am. The fare for this bus is $7.00 ($4.00 for children aged 3-15) and includes the return trip from Reds Meadow to Mammoth. The return trip to Mammoth Lakes will depart Reds Meadow Resort at 3:30pm, Devils Postpile Ranger Station at 3:45pm and will arrive at The Village at 4:30pm.
For more information about the Reds Meadow Intra-Valley Shuttle, please check the Eastern Sierra Transit website (www.estransit.com) or call 760.920.3359.