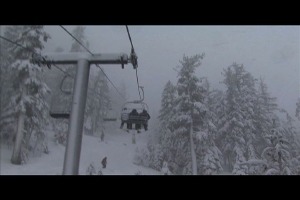 Snow and rain finally came to the Eastern Sierra with heavy snowfall in northern Inyo and Mono Monday morning, rain in Southern Inyo.  The heavy weather caused school closures and slow going.
Mammoth Mountain Ski Area called our week-end weather the largest storm of the season.  Their website said, "The storm door is open and Mammoth expects a series of storms to move through the area into the week."  The weather change meant a huge sigh of relief for the winter economy and some help for the water scene. At last word, the Mountain reported a storm total of 2 to 3 feet.
The storm system left the Sierra nicely coated with snow and dropped rain in the Owens Valley.  Before the snow hit, some rain did fall on Mammoth.  The Mountain reported a thick layer of ice on all of the chairs.  They said that lift maintenance had to hand-chip ice off the chair left mechanisms.
Icy roads in the Town of Mammoth Lakes caused some slipping and sliding. Mammoth Police confirmed power outages in Town on Saturday and Sunday.  Edison crews responded in the cold, wet weather to restore power.  Sunday morning, according to police, a power line in Old Mammoth sparked and caught the power bole on fire.  The pole reportedly broke in half and took power down for more than two hours.
Before the break in the mostly warm weather pattern, the Los Angeles Department of Water and Power measured the snowpack and precipitation. The LADWP website graph shows the Mammoth Pass snowpack, as of January 18th, lower than the driest year of 1975-76.  Of course, that has changed some with the recent snowfall.
The Snow Pillow measurements in the mountains for last Wednesday show a grim picture with Mammoth Pass at 4% of normal to date; South Lake, 22%; Big Pine Creek, 13%; and Cottonwood Lakes, 42%.