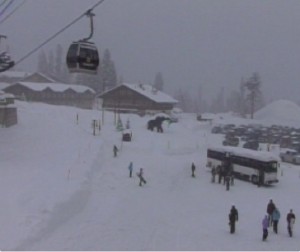 With a week of weather drama behind us and the holiday ahead, weather reports confirmed that the current system twisting about in the Pacific has pointed mostly at southern California.
Meanwhile here, the Owens Valley continues to get rain and Mammoth continues to plow out and dig out from under some 15 feet of snow. Mammoth residents all have stories to tell about the rough job of shoveling and blowing snow day after day just to get out of the house and drive way.
The Town of Mammoth and Caltrans have worked hard to make it possible to get around town. Some we have talked to call it "Survival Weather" in Mammoth Lakes. At last word, 166 inches of snow fell in December on Mammoth with 11 to 17 feet of it since last Friday. Skiinfo.com reports Mammoth has the deepest base of snow in the world right now with 260 inches of snow so far this season.
It sounds like now through Christmas will remain mostly dry and beautiful with more weather activity after that.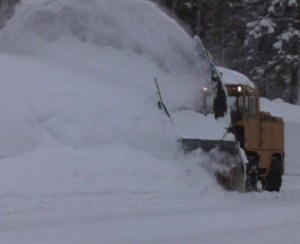 Mammoth's Police Chief Dan Watson, spending his first winter in the mountains, issued a news release to acknowledge all of the hard work by everyone. He said that the Town's resources have been severely tasked. He said the week-end saw many power outages, downed trees and stuck vehicles.
Chief Watson said the department thanks Town Public Works, the Fire Department, Edison and snow plow operators who kept things moving.