UPDATE 12-30-10: As of Thursday, Highway 395 had re-opened, the skies cleared and power returned to the Old Mammoth area of Mammoth Lakes. Call Caltrans road update line at 511 for chain restrictions and any other highway changes.
Stuart Brown with the Town of Mammoth Lakes said that Edison reported they would restore power to affected customers by around 11:30 am, Thursday.
Weather has once more caused problems for the Eastern Sierra. Blowing snow created severe white-outs in the Crowley area.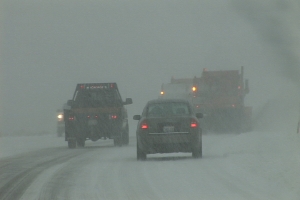 395 remained closed as several vehicles went off the road.
Travelers were advised to call the Caltrans road line at 511 for changing conditions.
As of 4:30pm Wednesday power remained out in most of Old Mammoth and the Snowcreek area. Stuart Brown of the Town of Mammoth Lakes said visitors have filled all of the properties in Old Mammoth.
Brown said Edison could not say when they would restore power. He said they did indicate it is an underground power issue. They could not bring extra crews in due to the closure of 395.
Officer Doug Hornbeck at the Mammoth Police Department said visibility was a problem in Town but he had no reports of any serious accidents on Highway 203.
The Town did prepare an emergency shelter to open at the high school if needed.