Wayne Harvier 74: passed away peacefully on Friday June 12th 2015, in Ontario, California, with wife, Norma Harvier and his children by his side.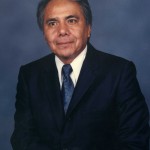 Wayne was born on August 28th 1940 to French Gilman Harvier from Sacaton, Arizona and Anona Cyrus Harvier from Big Pine, California.
Wayne grew up in Big Pine, California and went on to attend University of Nevada and serve in the United States Navy. He later settled in Ontario, California with his wife and four kids. He was a hard worker and took pride in providing for his family. After many years of truck driving, Wayne retired in 2001. He was an avid golfer and enjoyed participating in golf tournaments. Wayne also enjoyed fishing and spending time with his grandkids. Friends and family will remember Wayne for his humor, strength, and innate sense of protection for those he loved.
Wayne is survived by; his wife, Norma Harvier of 41 years; Children, Darcy Milam, Amanda Rachal, Christopher Harvier, and Paige Espinoza; Grandchildren, Daniel Rachal, Anthony Espinoza, Ariel Espinoza, Christopher Milam, Drew Rachal, Savannah Rachal, Olivia Rachal, Avery Milam, Lucus Harvier, and Scarlett Espinoza; Sisters, Dorothy Stewart, Lucille Parsons, Rita Summers, Donna Duckey, Sharron Harvier, Linda Harvier-Shelde; Brothers, Bud Cyrus, Martin, Alan and Danny Harvier. As well as numerous nieces, nephews, and cousins.
He is preceded in death by his parents, sisters Velma Williams, Norma Spratt, Arlene Anton, Mona Lewis, Edrie Harvier, brothers Vincent Harvier, and French Harvier.
Funeral Mass will be held at 10am on Saturday June 20th 2015, at Our Lady of Perpetual Help, located at 849 Home Street, Bishop, CA. 93514. Interment will follow at Woodman Cemetery in Big Pine, CA and repast to follow at the Alan Spoonhunter Memorial Gymnasium located at 1050 South Richard Street, Big Pine, CA. 93513.