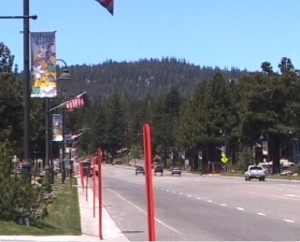 A Letter to the Editor,
With all the negative news coming out of Mammoth these day, much of it surely warranted, there is a very positive side as well that I think should be shared.
I 'd  been away from Mammoth for some 10 years and now find myself back at home, back where I am happily meant to be. And in that time much has changed. Main Street has been beautifully landscaped and maintained. Another golf course was added which golfer or not protects the area from more condos and buildings and creates a beautiful preserve of the area. A bike path was built all the way to Horseshoe Lake and through-out the town, a path I find extraordinarily beautiful. And Mammoth now has a FREE transit system; in a town this size is unbelievable. If more locals would only use it we could become a model for other communities, reducing our own carbon foot prints, saving the environment, and showing the world how to be green. Way to go Mammoth!
There is a new ride in town, the village gondola, ya I miss the old market there, but I find the Village to be the new and needed town square. As for Mammoth Mountain, the snow making and grooming is world class. To see what they do in even a lean snow year is to me a bit of a miracle. Way to go Mammoth!
The events are non stop through-out the summer, bringing in the dollars that our tourism based community surely needs to survive. There was a time when Mammoth was primarily a one season ski town, and the push for a year-round resort was the craze. Well whatever people think of how Mammoth got to where it is today, good or bad, I personally have never seen Mammoth more vibrant and more busy with tourist than it is today. Way to go Mammoth!
There is talk now that for Mammoth to be a true year round resort it has to do something about its shoulder seasons, the spring and fall. I disagree. I think Mammoth and the locals that live here need the time and space to collect themselves, relax, rejuvenate, take a break before they all come back again. Mammoth deserves a break, Way to go Mammoth!
And finally, I had read recently that the Town was contemplating concessioning out the parks and recs department of Mammoth to somehow do it better. So whilst biking up the bike trail the other day through Shady Rest I found the new park and recs office next to the Visitors Center and walked in to simply say: Way to go Mammoth, I have never seen it better!!!
Michael J Ahles