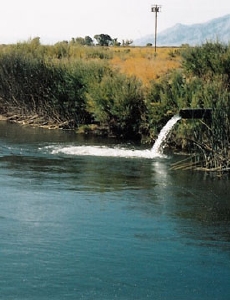 (Public Service Announcement)
The Metabolic Studio is hosting 100 Conversations About Water during this centenary of the LA Aqueduct.
Conversation Number 11: Historical and Contemporary Water Issues in Owens Valley Native Communities, with Alan Bacock ,Kathy Bancroft, Jeremiah Joseph, and Harry Williams.  At the Metabolic Studio IOU Garden in Lone Pine,  Saturday,  April 27, at 10 am.
Conversation Number 12:  Water Wisdom: Seven Pioneers. 
Water is a mysterious substance that is essential to life on our planet. While conventional science has succeeded in describing its unique structure and properties, much of the essence of water remains elusive.
Kathy Goss will highlight seven pioneering water researchers to help us explore the hidden nature of water, and its potential applications for the benefit of humankind.  At the PPG Silo South Of Lone Pine, Thursday, April 25, at 6: 30 pm. 
For directions or more information, call Jane at 510-468-7113.