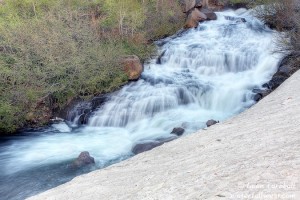 Los Angeles Department of Water and Power says they are still in negotiations. Mammoth Community Water District officials say they don't want to comment. What looked like a settlement over DWP's attack on Mammoth's water rights now looks iffy. A trial date has been set for September.
Alan Lily, one of Mammoth Water District's attorneys, said that at 1 pm Thursday, attorneys from both sides took part in a conference call with Judge James Garbolino. Earlier, Acting General Manager of the Water District, John Pederson, said that both sides would request the Judge set a briefing and hearing schedule.
Mr. Lily confirmed that Judge Garbolino did schedule DWP's opening briefs in the litigation for April 15th followed by responses through July. The trial date is set for September 6th. What happened to the hinted at settlement?
In November, then General Manager Greg Norby said that a four-hour meeting at DWP headquarters in Los Angeles resulted in "substantial progress towards a settlement agreement." Then, the Los Angeles Times reported earlier this month that LADWP was attempting to end hostilities and that settlement of major water issues was unfolding, including the Mammoth Lakes issue.
DWP had filed lawsuits over a year ago that claim Mammoth has no water rights in Mammoth Creek because LADWP owns them. Water District officials strongly disagreed and pointed to state allotted rights for more than sixty years.
Former Manager Norby had said at the end of January that Judge Garbolino set February 14th as the deadline for progress on settlement. He said, "There needs to be substantially complete principles ready and okayed by both parties or the court ends the tolling or delay agreement and re-starts the lawsuit proceedings." Apparently there was not substantial agreement because the Judge did re-start legal proceedings.
Asked if DWP and Mammoth were still negotiating, Attorney Lily said, "I don't want to comment on the issue of settlement." LADWP Public Relations Director Joe Ramallo did comment. He said, "We are still in negotiations, and we are still hopeful for a mutually beneficial settlement."