Inyo County Supervisors continue to declare a state of emergency in the Oak Creek area where a huge flood and mudslide ripped apart homes and areas of the Mt. Whitney Fish hatchery. Today, the hatchery looks better.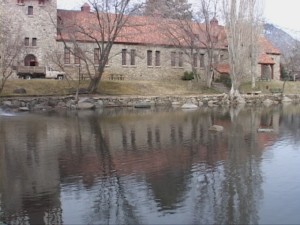 The Friends of Mt. Whitney Hatchery, led by Bruce Ivey, have cleaned up much of the overwhelming debris left by the mudslide. Recently, they introduced water back into the famous trout pond in front of the hatchery. For decades, visitors and locals tossed food in to the big brood stock trout, which were lost in the flood.
The road to the hatchery and entire Oak Creek area has remained closed by order of the Inyo Sheriff, but Fish and Game officials say they expect to re-open the hatchery for tourists sometime in the spring.
The scars of damage up above the Oak Creek area still mark the land. Decisions by the Forest Service are pending – decisions to either put the south fork of Oak Creek back in its old channel or leave it in the new location and decisions to raise the water table in the north area or leave it lower. In short, nature seriously altered the countryside and now the Forest Service has to decide whether to put it all back or not.