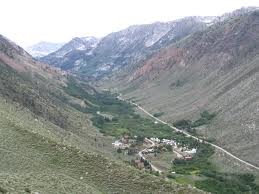 In what many called a "rancorous meeting" at times, members and observers of the Bishop Creek Water Association sat down in the Bishop High School Library Tuesday night to hash out the low water situation this year. A retired Southern California Edison hydrographer also shed considerable light on past practices which he said had helped the lakes and West Bishop properties during dry years.
The meeting started with the dire news of an officially low water year and the efforts of Bishop Creek Water Association to spread what little there is. Reports said water has finally flowed into the Highland Drive area where wells had gone dry and that it took eight days for water to make it down the creek to Barlow Lane.
President of the Water Association, Fred Finkbeiner, said there would be no discussions on operations regarding individual properties. Heated exchanges followed. Some board members threatened to resign. Finally, in a calming presentation, retired Edison hydrographer, Burt Almond, revealed the Bishop Creek drainage water management history which lies at the heart of this year's problem.
The Chandler Decree of 1922 spells out mandated creek flows through spring and summer months. To protect water for the upper lakes and for the stream and ditches in West Bishop, Mr. Almond said in dry years the Chandler Decree flows were not met. He said DWP allowed water to be held back in the lakes to meet water needs later in the season. DWP did not do that last year. Almond said as a result, the lakes, ditches and some wells dried up.
Almond reportedly said, as others have, that in previous drought years DWP Aqueduct managers and Edison came to agreement to hold water back. DWP's Bob Prendergast said he had no knowledge of such agreements. In January, DWP Aqueduct Manager James Yannotta had said that although the Chandler Decree does not provide authority to LADWP to modify its provisions, DWP "has allowed SCE to store a portion of the City of Los Angeles' water rights in South Lake and Lake Sabrina in the past…." He also claimed that LA only allowed water in excess of Chandler Decree rules to be held in the lakes.
Edison officials had earlier maintained that the Department of Water and Power allowed variations in water flow from the upper lakes down Bishop Creek to better manage water for the lakes and for properties below when needed. Tuesday night, Burt Almond confirmed those past practices by DWP.
According to observers at the meeting, Fred Finkbeiner suggested that he, Water Director Bob Harrington, Burt Almond, and Dan Golden of Edison meet with DWP Manager Yannotta to see if they could arrive at some resolution.
Los Angeles bought up most of the land and water that were involved in the Chandler Decree, so DWP apparently has the power to change that Decree to better serve the area. For now, those involved in the issue hope for a short term solution this season followed by long-term changes in the Decree.
As some pointed out, the Bishop Creek Water Association mission should not be finger pointing at neighbors but dealing with how DWP and Edison handle the Chandler Decree.