On the Mammoth Lakes water scene, Mammoth Community Water District officials still have concerns about the Town's increase of project densities. Bottom line – more people than the General Plan had counted for the future.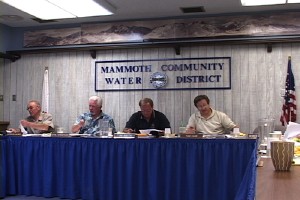 This translates into unexpected pressure on water and sewer services. When the Water Board recently met, they continued the talks about the potential impact of the Town's density bonuses.
Water District staff described the points in town planning processes in which the Water District can comment. Staff has lodged comments in the past when asked. Now, staff members plan to track Town Council and Planning Commission meetings to provide input on potential impacts to water and sewer services resulting from increased densities. Officials will also revisit connection fee studies to make sure enough money is available to expand services if needed.