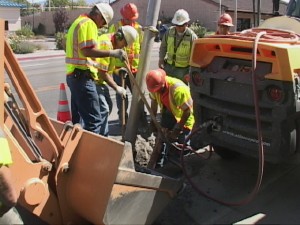 On Main St. in Bishop, an elusive leak was discovered and repaired. As we had reported, a large bulge developed on Bishop's Main St. at Pine St. Bishop Public Works crews began the search for the source of a substantial water leak.
They called on Mammoth Community Water District for help. The District brought down their leak detection equipment and identified the source of the leak as the area in front of Jack's Waffle Shop.
Bishop Public Works Director Dave Grah said that the leak was, in fact, just a few feet away from the spot nailed by Mammoth Water District. Grah said the leak had developed where Jack's Waffle Shop's water service tied into the main line. Crews fixed the leak and put a temporary pavement fix on. A permanent patch will go down next Tuesday.