A lawsuit over water in the Meadowcreek area of Bishop has created a hassle for homeowners there.
After close to two years since crews broke ground, only one condo stands where 22 were planned on Barlow and 395.
In the lawsuit, the proponents of the Arbors project make the claim that the Meadowcreek Mutual Water Company agreed to supply water to the site and then failed to do so causing substantial delay in the project.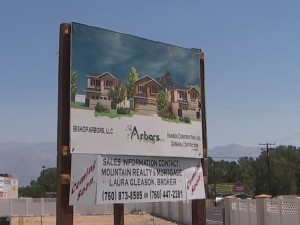 Bob Montgomery with the Meadowcreek Mutual Water Company reports that the water was hooked up about a year and a half ago, but was turned off when the proponents of the Arbors project failed to sign the state paperwork required to become members of the Meadowcreek Water Company.
Many of the details will be worked out between the lawyers or in court but in the meantime the lawsuit has caused headaches for those who try to sell homes in Meadowcreek. Realtor Stan Smith with Pleasant Valley Associates reports that sellers have to disclose the fact that they are being sued, which can in turn affect the value of the house.
From a real estate perspective, it aint good, Smith says. With homes in Meadowcreek for sale and some in escrow, Smith says that the lawsuit is not helpful in a market that is already slow.