The Inyo-Los Angeles Technical Group meeting Wednesday struck those in the audience as more like listening in on a private conversation than a public discussion. Many issues seemed unclear to the uninformed public. It was clear that both sides remain at least two years away from a way to control groundwater pumps to protect the environment.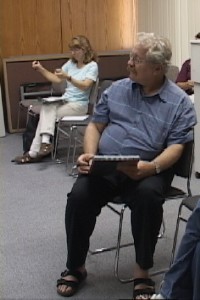 Staff members of Inyo's Water Department and DWP talked to each other about ongoing water issues for about an hour at DWP Headquarters. Inyo's Acting Water Director Bob Harrington agreed that DWP's plan to pump 66,800 acre feet of water this year was acceptable. Harrington did ask for more detail on the descriptions of in-valley uses.
Harrington also noted that ranchers are upset about the lack of irrigation water right now. DWP Manager Gene Coufal said that there just isn't a lot of water run off yet. Coufal said last year was a 58% run off and this year, it's 86%. So, he indicated, it's a matter of ranchers waiting for their water.
On some DWP wells, it's a matter of tests and protocols. New Well 416 in Lone Pine is believed to have major potential for lowering the groundwater. DWP continues to work on a set of rules for testing the well.
DWP has put out requests for proposals for a firm to work on whether groundwater can be used at the Owens Dry Lake to keep down the dust.
Staff members from both sides reviewed a few other outstanding projects and called it a meeting after about an hour. They did note that a Standing Committee meeting of Inyo and LA officials will take place June 16th at the Independence boardroom at 1pm.