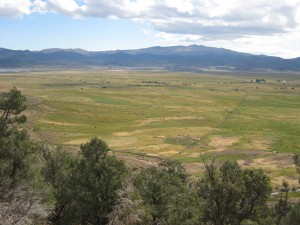 While there has been no help for water in the Bishop Creek drainage, questions also remain about leases for Department of Water and Power ranchers.
In late March, Inyo Water Director Bob Harrington wrote a letter to Department of Water and Power Manager Jim Yannotta to say that new ranch leases give less water and less control over water than the Long Term Water Agreement allows. At last word, Harrington had not received a reply from DWP.
The Water Agreement says that DWP will continue to provide water to irrigated leases as it was in the 1981-82 run-off year and that lease policies remain as they were from 1970 to 1990. The Inyo Water Department says DWP's new leases violate both promises. In particular, LA would give itself unilateral power to reduce water supply to irrigated lands. Water Director Harrington said that reductions in irrigation on LA-owned land due to drought are allowable but would need to be agreed to by the Board of Supervisors. He said, "LA has not requested that the County agree to such a reduction."
Over time, LADWP has provided 5 acre feet of water per acre of ranch land. The new leases say "up to" 5 acre feet for ranches and "up to" 3 acre feet per acre for mitigation pastures. So, there is no longer a guarantee of the previous 5 acre feet per acre. The new leases also say that during irrigation season, stockwater will not be provided concurrently with irrigation water as it has been for many years and that DWP might charge for stockwater.
Mr. Yannotta said in recent weeks that "revised ranch lease language is consistent with the Water Agreement and is consistent with the language used in ranch leases since the 1970s. "However," he said, "concerns have been raised about revised lease language that is purely intended to avoid the waste of water and discourage the taking of excess stockwater as a supplementary irrigation resource." Yannotta said LADWP is "taking those concerns into consideration to more clearly convey conformance with the Water Agreement and the 1991 EIR and to use both irrigation and stockwater in a beneficial manner and avoid the waste of water pursuant to the California Constitution and State Water Code."
Again, Water Director Harrington said the lease language on water gives less water and less control over it than the Water Agreement demands. Not answering that question, Yannotta does say LA will take a lot less water down the Aqueduct this year. With the drought, he says LA will receive about 38,000 acre feet or about "15% of normal." LA has other sources of water, which do, of course, cost more than Eastern Sierra water.