– Press releases
In July, Mammoth Community Water District (MCWD) customers used 85.6 million gallons less than July of 2013. This 38 percent reduction exceeds the MCWD's Level 3 reduction goal of 30 percent.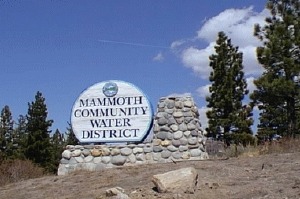 General Manager Pat Hayes remarked, "These savings demonstrate the whole community understands the severity of the drought and they are pitching in to help our water supplies last through the summer. We're still in a critical position with our water; everyone needs to keep up the conservation effort." The year 2013 is being used as the baseline for comparison purposes by the state and MCWD.
The July rains and cooler temperatures in Mammoth Lakes did not replenish groundwater or surface water supplies used by MCWD for the community, according to MCWD Operations Superintendent, Karl Schnadt. As a result, MCWD customers remain under Level 3 Water Shortage conditions.
The MCWD has been almost entirely dependent on groundwater supplies from nine production wells since last year. After four years of below average runoff and higher than normal pumping, the water table is showing the effects of the drought.  Three wells are operating on a limited basis due to low groundwater levels and a fourth is approaching the same status. Currently, the available surface water supply is being saved for emergency uses.
Under Level 3 restrictions, parks, schools and golf courses are operating under conservation plans that have been submitted to MCWD.  These recreational facilities have reduced their irrigation usage by more than 30 percent in June and July and are allowed to irrigate outside of restricted days of the week and hours as long as they adhere to reductions outlined in their conservation plan.  All customers are encouraged to visit the MCWD website for a list of the current restrictions.
About Mammoth Community Water District
MCWD provides water and wastewater utility service to the Town of Mammoth Lakes and surrounding areas.  MCWD strives to provide reliable, affordable utility service to our customers and to conduct our operations in a manner reflecting our stewardship role.  We encourage our customers to practice responsible use of our limited water resources, and to take advantage of the information and services available to support this goal.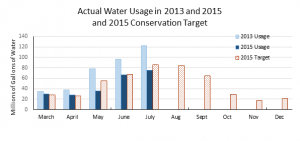 ###
City of Bishop water customers continued to conserve water in July, using 24.5% less water than used two years ago. Much like they did in June, city water customers used about 16,000,000 gallons less in July 2015 than July 2013.
That is about 140 gallons saved per resident per day! The attached graphs show water use in 2013, 2014, and so far in 2015. One graph shows water use by month in the city and the other graph shows total water use in the city for the year.
The graphs show that water use in 2015 is much less than it was in 2013 and 2014. Updates of these graphs will be released monthly. The State of California required that the City of Bishop implement water conservation measures to achieve the state-required 25% reduction in water use in 2015 compared to 2013. The water conservation measures in place in the City of Bishop can be found at http://www.cityofbishop.com/wp-content/uploads/20150414WaterConservationMeasures.pdf.
In December, the city will have to report to the state how well its users have conserved water. The city could be subject to $10,000 per day fines if it doesn't meet the 25% reduction in water use.
The city has an incentive program to help its water customers save water. The program provides free hose nozzles, hose timers, and irrigation system timers and provides rebates for some sprinkler systems and water conserving appliances. The incentives are available only to water customers of the City of Bishop and are limited to one per customer account.
Saving water saves money, reduces water rates, protects groundwater, is the right thing to do, and is now required by the state. Contact the City of Bishop Department of Public Works at 873-8458 for more information on water conservation and the City's water system…