The sad truth this year – not enough water to go around for all the needs. The hope remains that agencies and people will get together and agree to share the pain. That was the underlying message when the Inyo Water Commission met Wednesday with around 100 people in the audience to share their fear of not enough water.
Many residents from West Bishop, where wells have gone dry, voiced concern about another dry year and the way Edison and DWP manage water in the Bishop Creek Drainage. That led Water Director Bob Harrington to report on the 1922 Chandler Decree which lays out creek flows between April and September. He said the Decree does not divvy up water below Plant 6 where homeowners complained about a fair distribution of water in West Bishop. He said neither the Bishop Creek Water Association, DWP or the Chandler Decree affect that. The Water Association doles out what water reaches the ditch system.
Former Edison hydrographer Burt Almond once more stood up to say he knew Edison and DWP had agreed with one another in the past to hold back water in the lakes in some years. Debbie Hess of Edison told the crowd that the utility would be willing to come to an agreement with DWP to deviate from the Chandler Decree flow schedule, but something would have to be put in writing. Bob Prendergast of DWP said LA would be willing to talk about reaching an agreement but would not commit to putting it in writing. He also said that with the run-off as it is, DWP will try to fulfill lease obligations, tribal obligations and fish flows in Bishop Creek. He said DWP doesn't think they can do any more than that.
So the issue of sharing the pain boils down to the two big utilities agreeing to do that. Water Director Harrington said that he tried to hammer home the message that the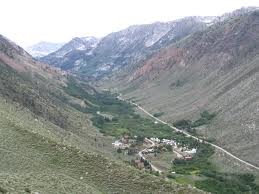 drought, snowpack, absence of water storage in the Bishop lakes all mean we have to be prepared for worse conditions than last year.
Harrington also reported on the West Bishop groundwater tables which do show a sharp drop in the last 8 months. He attributes that to the neighborhood ditches drying up last summer. There is also zero water storage in Lake Sabrina and South Lake right now. He said his is unprecedented in the history of the two lakes.
The dry situation points to the need for DWP and Edison to reach some type of agreement that will at least cause all parties to share the distasteful drought. Inyo County, as Harrington said, can act as facilitators to this type of discussion. The Water Commission will develop a presentation to the Board of Supervisors on this grave issue. Residents fear that more wells will dry up. They also want to make sure they get their fair share, no matter how little there is. The Water Commission will summarize what they heard at their meeting along with the message that there could be a better way to handle the water this year if all parties agree.
Harrington said, "There is just not going to be enough water to go around. The equitable way," he said, "is for everyone to give a little. Conditions can't meet everyone's desires." Harrington said he hopes the situation motivates Edison and DWP.