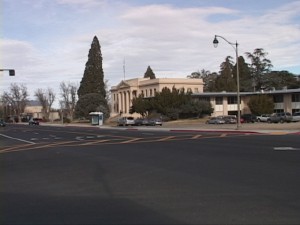 Water customers in Lone Pine and Independence have not received water bills for about four months since Inyo County gave up Owenyo Services operating the systems and contracted with the company of Wilder-Barton. Now, many fear they will receive four months' worth of bills at one time and not be able to pay the bills. We talked to the head of Inyo Public Works and one of the owners of Wilder-Barton.
Inyo County Public Works Director Clint Quilter said the billing software used by the previous company, Owenyo, was unusable. So, there have been problems getting bills out. Quilter said that maintenance of the systems is now up to speed and the County wants to make sure meters are being read.
Quilter also said that phones have been a problem and that this has been fixed. The Wilder-Barton office in Lone Pine is now open next to Lone Pine TV. The phone number is 760-258-5021.
But what about the burden of four months of water bills? Quilter said, "We recognize these bills are close together. This will be taken into account." I asked him what he meant by that. Quilter said there will be no late fees and there may be adjustments to the due date. Will residents' water be shut off if they can't pay? Quilter said, no.
Quilter said July-August bills will go out first followed by September – October. These periods of the year include the highest water use and the highest cost for residents.
Floyd Barton, one of the owners of Wilder-Barton, essentially grew up in the Owens Valley. His father, also Floyd Barton, was the Sheriff of Inyo County back in the 70s and 80s. He knows the territory, and he said he knows the hold-up on the water bills is due to "inheriting an inaccurate data base." Barton said there was no way to go from the data base to pages in the route books. He said for his company to develop a bill, it takes a data base, a route with service information and a meter number for the correct piece of property.
Barton said he could not attest to what was done before Wilder-Barton took over. He did verify that his crews are reading meters. He said there have been numerous people with discrepancies in water usage. Barton said they are going through every account to make sure they are accurate. He said bills are now going out. He also said the bills will be for two-month periods. The first bills are from July and August. September and October are next.
Barton verified what Quilter said – no late fees. He added that the water systems have been "neglected for a very long time." Barton said the systems are not in compliance right now but that his contract with the County saves them $100,000 per year. Wilder-Barton has operated large and small water systems in several locations over time.