Can DWP pump the Inyo underground, damage the environment and fix it later? That dubious policy idea was posed as a question by the California Native Plant Society's Daniel Pritchett last summer. Inyo officials have favored avoiding damage in the first place. At the recent Standing Committee meeting of Inyo and LA officials, little was said about this except that both sides are analyzing the question.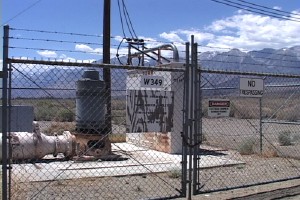 Pritchett attended the meeting in Los Angeles to underscore the critical nature of this very basic, high level policy – can DWP's pumps damage the Owens Valley or not? The Committee gave Pritchett 3 minutes to talk and had virtually no reply.
Inyo CAO Kevin Carunchio said that officials will prepare a response to Pritchett's question and the issue will return to the Standing Committee at a later meeting.
In December, DWP Manager Gene Coufal had prepared a draft response to the question of pumping and damage. His draft letter went to the Inyo Water Department for consideration. The letter is hard to read because each page is obscured by the big, printed black letters that spell DRAFT.
We were able to read in the letter that Pritchett believes the Water Agreement says DWP should avoid impacts rather than allowing them to become significant and mitigating after the fact. Pritchett also wrote that under LA Mayor Hahn, DWP recognized "no obligation to avoid impacts at all."
DWP did not give a yes or no answer to the question of pumping damage. Instead, Mr. Coufal refers to the process described in the Agreement to determine when LADWP should mitigate damages. He also quotes the Water Agreement which calls for avoiding "certain described decreases and changes in vegetation and to cause no significant effect on the environment which cannot be acceptably mitigated while providing a reliable supply of water for export to Los Angeles…." In the 1980s, Inyo citizens complained about the vague nature of this wording.
It's unclear when answers to the pumping question will surface. Meanwhile, Inyo and DWP staff are still meeting privately to revise the part of the Water Agreement designed to manage pumps and protect the Valley.