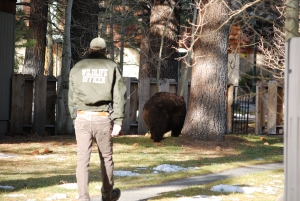 New Bear Awareness Tactics for a Drought Year
Steve Searles introduces the "Don't Feed Our Bears" video series
March 12, 2014 — Mammoth Lakes Wildlife Specialist Steve Searles, better known as The Bear Whisperer, isn't afraid to make a fool of himself in the name of coexistence with bears, especially this year when a winter drought will make food sources for bears, scarce.
Join the technology-challenged Searles as he navigates his new smartphone and social media of the 21st century. On March 1st, Searles launched the "Don't Feed Our Bears" video series — a daily, 30-60 second raw video of a local bear or bears taken by him in the field, and then posted to his social media channels with the sole purpose of coexistence education. The footage is grassroots, innovative and often comical. It's not a glossy-finished Hollywood product but a real view of wildlife in Mammoth Lakes that may include bloopers, drama and a warm-fuzzy feeling.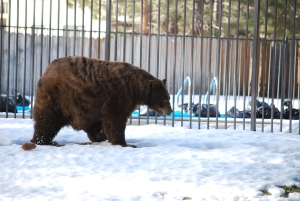 "This year more than ever we need to keep the bears in the limelight," Searles said. "I am making and posting these videos with the hope that they will be viewed and SHARED across the web to lead by example and show the world that it is possible to co-exist with bears and other wildlife."
That's right, just watch the video and then hit share to help keep bears and other wildlife on people's minds everywhere.
Now more than the ever,please remember to keep garbage contained. Let's keep our wildlife healthy this year. Don't Feed Our Bears.  Check it out at YouTube.com/BearWhispererSearles