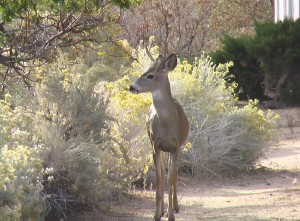 When weather turns cold, deer start to migrate.  That can mean tragic highway collisions.  Caltrans sent out a reminder to watch out for the deer and other animals as they go on the move this fall.
Caltrans officials say they put up deer crossing signs and mow vegetation along the sides of the highway to help drivers see the animals.  Caltrans added that biologists from their agency and from Fish and Game continue to study the habits of deer to develop new technology to help avoid highway collisions.
Caltrans suggests some precautions now.  They point out that deer usually travel in packs so if one animal crosses in front of you, others may follow.  Slow down and watch.
Deer are most active at dusk and dawn.  Again, slow down and stay alert.  If you can not avoid an accident, wearing your seatbelt will help prevent injury.
Caltrans says that the yellow, diamond-shaped signs with an image of a deer mark high-traffic areas for deer.  If you do see a deer, brake your vehicle firmly and calmly and stay in your lane.  Some experts also recommend a long blast of the car horn to scare deer off the road.
If you do hit a deer, call emergency services and do not approach the animal.