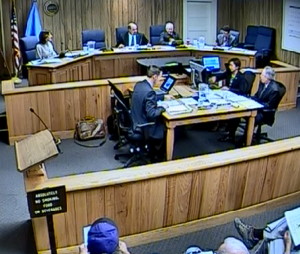 The City of Bishop has launched a new technology, which the Town of Mammoth Lakes has used for some time. It provides the public an online portal to attend, research, and participate in public meetings. In fact, you can watch the City Council Study Session at 4pm Tuesday and the Regular Meeting at 7pm Tuesday, either in real time or in archive.
The public can also access relevant supporting materials like staff reports, meeting agendas, and minutes. Archived documents can be accessed in a variety of ways, including entering key search words. Anyone with an internet connection can take advantage of this new service by going to the City of Bishop website, www.ca-bishop.us.
The City of Bishop purchased the Government Transparency, Meeting Efficiency, and eComment solutions software from Granicus, considered a leader in government electronic software programs. The City of Bishop expects the return on investment to be an overall cost savings to the City, greater participation by the public, and a more responsive government.
To use these features just go to the City of Bishop's website at www.ca-bishop.us and go to the GOVERNMENT tab. Select from the following choices – City Council, Parks and Recreation Commission, Planning Commission, or the Water and Sewer Commission to view their meetings LIVE as the meeting is taking place or view the meetings anytime thereafter. All meeting agendas, videos, and minutes will be available on each of their respective web pages.
For further information please contact Assistant City Clerk Robin Picken at (760) 873-5863 or via email at [email protected] for assistance.