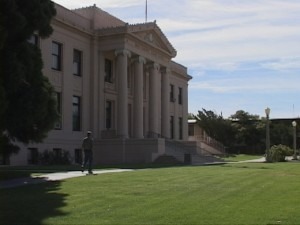 This letter followed the summoning of a reported 100 or so citizens for jury duty in Inyo Superior Court on Monday, January 14th in Independence.  Sierra Wave heard from a number of those called who were distressed that they were called, re-arranged their days only to find out a half hour after arriving at the courthouse that the trial was changed to a bench trial instead of a jury trial.  This writer also pointed to the Grand Jury report that recommended against last minute changes in trial proceedings:
Dear Editor,
I had a jury summons for today.  I called last night and this morning to make sure it was still on.  I had to take the day off work.  I arrived in Independence at 8:30 a.m. went through the metal detector was told to sit down and wait.  Several people came in after me and went straight into the courtroom, so I decided to go in.  By 9:00 a.m. the courtroom was full, extra folding chairs were used, the jury box, the plaintiff and defendants chairs were full, the witness chair was occupied and they rolled chairs in from offices for people to sit in.
About 9:10 or so, the Bailiff told every one no hats or sunglasses and to turn cell phones off.  Then said someone would be in momentarily to give us our orientation.
After 20 minutes a lady came in and said it must be our lucky day, they decided to do a bench trial instead of a jury trial.
Over 100 people were there missing work, missing out on part of their day to have this decided the morning of jury selection!!  Ludicrous.  I thought the Grand Jury already addressed this with the District Attorney's Office.  Is it arrogance or incompetence that they can show total disregard to the voting members of our County.
How much more money does the County of Inyo need to waste on this?
Just a little more fat to chew on.
Peggy Feigner
Bishop