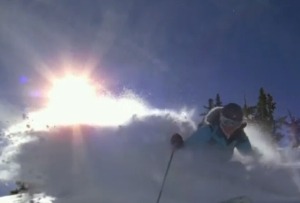 Sierra Wave TV33 is an Outside Television affiliate and presents two new programs.  Watch Season Pass Thursday, February 9 at 9:30pm and Jeremy Jones' Deeper starting Wednesday, February 22 at 9pm.  All this on Channel 33, Suddenlink cable throughout the Eastern Sierra.  Check out the press release below for more:
Westport, Conn., February 2, 2012 – Outside Television, the only television network dedicated to the active outside enthusiast, announced today the premier dates for its two new original, exclusive series from leaders in adventure entertainment.
Season Pass, a 13 episode series from Warren Miller Entertainment, which has chronicled winter action sports for more than 60 years, will air on Thursdays at 9:30 p.m., premiering on February 9, with repeats on Saturdays (3:30 p.m.) and the following Wednesday night (11:30 p.m.).   Jeremy Jones' Deeper, a 10 episode series from legendary snowboarder Jeremy Jones and Teton Gravity Research, will premiere on Wednesday, February 22, at 9:00 p.m.  It will air each Wednesday, with repeats scheduled for Sundays at 3:30 p.m. and the following Tuesday night at 11:30 p.m.  All broadcast times listed are local.
"We are excited to be partnered with both Warren Miller Entertainment and Teton Gravity Research on these new series. This is just the first step in expanding our presence in the adventure programming space," said Rob Faris, SVP of Programming & Production, Outside Television. "We will continue to be aggressive in 2012 in finding new series that fit the Outside brand and our new national audience."
An independently owned network, Outside Television is currently available on cable in more than 110 premier resort destinations throughout the United States.  The network, which broadcasts in full HD, serves those passionate about adventure travel and adventure sports, including skiing, mountain biking and surfing, and consistently ranks number one in Nielsen ratings in its resort markets.  Outside Television is currently in negotiations with several major cable operators as it expands its footprint nationally.
A division of Bonnier Media, Warren Miller Entertainment crews have filmed around the globe and have captured some of the most amazing moments in winter action sports.  Narrated by Olympic Gold Medalist Jonny Moseley, Season Pass episodes will provide viewers with a special adventure and be themed around a specific topic, including the evolution of skiing and the thrill of taking an epic journey to find the best places to ski.