With the coldest May on record in Lee Vining, snow has melted very slowly and the level of Mono Lake has gone up very little so far. Members of the Mono Lake Committee say that will change soon.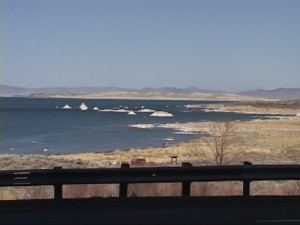 Greg Reis, information specialist for the Mono Lake Committee, said that he had just checked out the lake yesterday. He said the level of the lake came up twice as fast in the last week than the prior two weeks. As of Thursday, the lake level sat at 6,382.1 feet above sea level.
Reis said Rush Creek will see its peak flow this week and remain high for the next couple of weeks. Because of the cold spring weather, the level of Mono Lake was actually higher April 1st than it was on June 1st. Just not enough water flow into the lake to keep up with evaporation.
April 1, DWP forecast that the lake would rise a half a foot this summer. Reis said since April 1, DWP's run-off forecast jumped from 90% to 104%. So, he believes the lake will go up at least a half foot more.
Upper reservoirs fill up before Mono Lake, but they are beginning to spill over. Rush Creek and Mill Creek will send big flows into Mono Lake. It's all about temperatures and snow melt.