Press release
A closing reception will be held for the "Wabi Sabi: Perfection in Imperfection" art exhibit featuring local Inyo County artists at the Manzanar History Assocation Bookstore at Manzanar National Historic Site. The reception will be held on Sunday, January 14th from 1:30 to 3:30 pm. The exhibit highlights four Inyo County artists who explore and interpret Japanese design and Manzanar themes.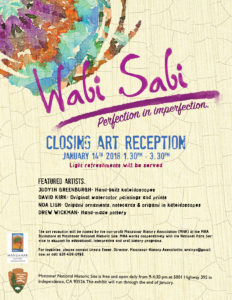 Wabi Sabi is a traditional Japanese world view and aesthetic that highlights beauty in imperfection, impermanence and incompletion. It incorporates many elements and concepts and celebrates rusty, decayed, transient and imperfect objects. Local artists explore these themes from different vantage points based on their individual art training, experiences and heritage, inspired also by Manzanar-related and Japanese artistic themes.
Featured artists from Darwin, Olancha, Independence and Lone Pine include Judyth Greenburgh, with hand-made kaleidoscopes, some with original origami foldings by Noa Lish; Dave Kirk, with original watercolor paintings and matted prints of Manzanar scenes such as a view of the barracks with the Inyo Mountain range; Noa Lish, with hand-folded modular origami ornaments and boxes, and miniature origami inside kaleidoscopes; and Drew Wickman, with hand-made pottery such as traditionally shaped Sake and bowl sets, as well as vases, tea cups and rice bowls inspired by Japanese design elements and traditions.

All creations will be available for sale at the bookstore through the end of January. Proceeds will be shared between the artists and the non-profit Manzanar History Association which supports Manzanar National Historic Site's educational and interpretive programs through a cooperative partnership.
The art reception will be hosted by the non-profit Manzanar History Association, which operates under the umbrella of the Friends of the Eastern California Museum. All artists will be present, and light refreshments will be served.
The Visitor Center is free to the public and open daily from 9 am to 4:30 pm.
Manzanar National Historic Site is located at 5001 Highway 395 in Independence, California.
For more information, contact Ursula Esser, Executive Director, Manzanar History Association and Manager of the MHA bookstore, at 760-878-2727 or via email at [email protected]