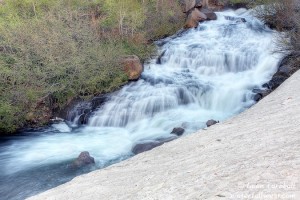 Would expansion of the Casa Diablo Geothermal operation damage the water supply of Mammoth Lakes? Opinions on that vary, and the Air Pollution Control Board has asked Mammoth Community Water District and geothermal company, Ormat, to work it out.
APCD is the lead agency for the environmental review of Ormat's proposed geothermal expansion. When the company applied for well permits at APCD, Director Ted Schade had concerns about the impacts on the Mammoth Lakes' water supply. Consultants concluded there would be no impact.
However, the APCD wants the Water District and Ormat to come up with a cooperative plan that would assure no impacts. The Water District had gone public at the end of August that they would appeal the BLM and Forest Service approvals of the Casa Diablo expansion because of "serious concerns about the negative impacts the proposed…project could have to local groundwater and surface water resources."
In a press release, Mammoth's Water District officials had said they would seek a robust monitoring and mitigation plan from Ormat. Geothermal expansion plans include up to 14 new geothermal wells with geothermal fluid production increasing by 10,000 acre feet per year.
The Water District had said that groundwater supplies over 70% of daily water use in Mammoth Lakes. There are also concerns about impacts to Mammoth Creek flows.
At their meeting last week, the APCD Board asked the Water District and Ormat to come back with a plan. If they do, then the legal determination is that Director Ted Schade will make the decision.