James (Votie)  Devotie Goin Jr.
March 14, 1926 to April 4, 2017
Votie was born in Kansas City Missouri, although his home was in Downey California. As Votie grew up he got into working as a child movie actor.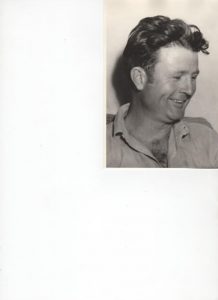 Two of his most recognizable movies were small parts in Mr. Smith Goes to Washington and the Grapes of Wrath.
As a little time went by the family moved to the Owens Valley where he spent the rest of his life. He graduated from Bishop High School in 1943, then joined the Navy. Votie served most of his service in the South Pacific during WWII as a sonar man on a destroyer escort USS Duffy DE 27.
Although he also served short duty on the USS Boulder Victory, USS Astoria and the post war on the USS Nevada. He was honorably discharged in February 1946. Votie lived on the family ranch where he had his many chores, one was milking his cow.
There was a time when he was suffering from a malaria attack and was bed ridden. Now this cow didn't care, she had her own problems with her milking needs and had no sense of humor about this. Quickly arrangements were made for this unattached gal named Betty Banta to take over the cow milking duties.
Well Votie and Betty were married April 2, 1949, a union as they never parted for sixty six years. Votie worked as a masonry contractor to provide for Betty and his four children.
As raising his family he enjoyed the outdoors fishing and camping, he mostly enjoyed exploring the mountains and desert in his dune buggy as he wore this old black, floppy, hippy hat.
Votie's biggest passion was to fly as he was a private pilot and had his own plane. It never took any reason for him to get in it and go! He spent most of his adult life flying search and rescue for the Civil Air Patrol. He and Betty flew countless hours together searching the Western states for downed aircraft, lost or injured people in need or transporting items for emergency services.
They were very devoted to this for about thirty years till Votie aged and had to hang up his wings.
He would never say but there is still people still alive because of them.
Votie spent his golden years working with wood even though he was a brick layer, he really liked to build furniture. He was the kind of dad and grandpa that always had time to teach, lend an ear and just be part of our lives. He always gave his all in anything he did.
Votie returned to Betty April 4, 2017 peacefully he was 91. He is proceeded in death by the love of his life, best friend and wife Betty and their son Devotie. Survivors are daughter Lyndi Goin of Bishop, son Mark Goin of Caliente Nv. Son Kyle Goin and his wife Tammy Goin of Bishop and numerous grandchildren and great grandchildren.
A GRAVESIDE SERVICE WILL BE HELD, THURSDAY, MAY 11, 2017, AT 11:00 AM, at the East Line Street Cemetey, 2000 Poleta Road, Bishop