Citizens of Mono County, the last day to register to vote in the June 3, 2014, election is Monday, May 19th.   If you need to register, or are uncertain about your registration, contact the Mono County Registrar's office by calling 760-932-5537, or emailing [email protected].  Don't miss your opportunity to exercise your right to vote on June 3rd.
Lynda Roberts, Mono County Registrar of Voters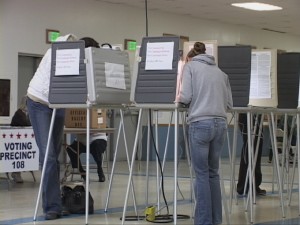 Kammi Foote, Inyo County Clerk, announces that Monday, May 19, 2014 is the last day to register to vote for the June 3 Statewide Direct Primary Election.
Paper applications are available at the Elections Office, post offices, public libraries, and the Department of Motor Vehicles. Voters may now also choose to use the latest phase of online voter registration by logging into RegisterToVote.ca.gov. Online or on paper, California's laws and procedures for processing voter registration applications are identical.
Also, voters may now find the location of their polling place, view copies of their Sample Ballot booklet or track the status of the Vote-by-Mail ballot on-line at the Elections Department website at www.inyocounty.us/Recorder/Clerk-Recorder.html.
If you have any questions regarding voting in this election you are encouraged to contact the Election Department at: 760-878-0224 or [email protected] .