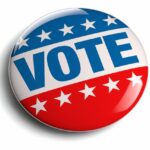 The voter registration deadline to vote in the November 3rd Presidential General Elections is Monday, October 19, 2020. This is the last day to register and receive a mailed ballot, which provides voters the choice to vote by mail, drop off the ballot in a drop box, or drop off at a polling center or vote in person on Election Day. 
Paper registration forms are available at the Elections Office in Independence and all Inyo County post offices. Online registration is available at RegisterToVote.ca.gov.
Registration after October 19, 2020 is only available in person at the Elections Office in Independence with both registration and casting a vote required on the same day. For voter registration efficiency and flexibility, it's recommended to register by the October 19th deadline.
Anyone who has recently moved is encouraged to check their registered mailing address at VoterStatus.sos.ca.gov.
"No one in Inyo County will have to choose between their health and exercising their right to vote," said Kammi Foote, Inyo County Registrar of Voters. "It's important all Inyo County citizens understand the facts of how and when you can vote in the November 3rd election, and to make a plan."
Locations of polling places and ballot drop boxes, the Sample Ballot booklet, and registration to track your ballot can all be found at elections.inyocounty.us.
If you have any questions regarding voting in this election you are encouraged to contact Inyo County Elections at 760-878-0224 or [email protected].