Press release release
"Autumn nights voter registration."
Deputy Registrar Chuck Levin will be at the Bishop Twin Theatre 6pm to 10 pm Mon, Tues and Wed 10/2-10/4.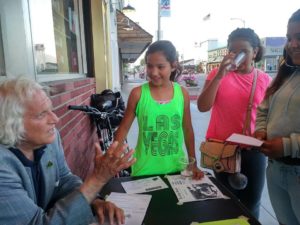 Please stop by to register to vote, pick up election information  or have your children get their Future Voter Sticker.
Also, this is a reminder that there is an election coming up on November 7, 2017 for the Eastern Sierra Community Services District, which has over 3,400 voters in the greater Bishop area.
This election will be conducted largely by mail and voters should expect to receive their ballots the week of October 9th.
For more information, please visit the Inyo County Elections websitehttp://elections.inyocounty.us/ or call 760-878-0224.