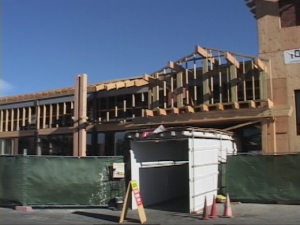 For some it's kind of disorienting – the construction at the Vons Mammoth Lakes store. The two entrances are now plywood tunnels out into the parking lot, designed to protect shoppers. Inside, things have been moved, making way for a new floor plan. Vons Manager Rick Graham says construction is on schedule.
The complete store make-over, including the exterior, started more than a month ago and is slated for completion this summer. Starbucks and the Vons Pharmacy have moved to the expanded area inside Minaret Mall. More seating was also designed for this same area.
Vons Real Estate Vice President Brian Braaten had told Sierra Wave that the changes and expansion would also "breathe new life into the mall area." He said these changes have been a long time coming. Renovation of the current store is also underway with the new space created by the relocation of the Pharmacy and Starbucks.
Braaten had said the deli would expand and other changes would be made inside the store. Manager Graham said the changes are evolving and the project is more than half-way finished and on schedule. He has overseen a lot of moves inside the store and expects more items and a better customer experience.
Graham summed it up when he said, "This is a huge change!" Vons will invest some $4.5 million in this project. The work on the exterior, according to Braaten, will look similar to Vons stores in Lake Tahoe and Bend, Oregon. He had told us at the start of the project that "When tourists visit and leave, they will take away a better impression."