Mammoth Lakes Recreation press release
Are you looking for a fun volunteer opportunity to support our community? We need your help in building the all new Inclusive Playground at Mammoth Creek Park.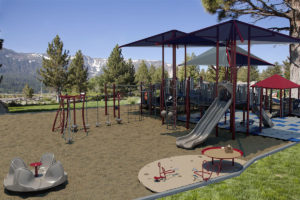 In 2017 the Town of Mammoth Lakes Parks and Recreation Department were awarded a Healthy Play Funding grant and received $100,000 of matching funds from PlayCore and GameTime to install a new inclusive playground at Mammoth Creek Park.
The playground will be the first truly inclusive playground incorporating research-based, best practices in Eastern California and will also serve as a National Demonstration Site (NDS).
The inclusive playground is one of five components of the Mammoth Creek Park project, designed to work with existing park features and the proposed community multi-use facilities.
The guiding principle builds from the "A Town within a Park" concept to deliver local residents and visitors with high quality, complementary recreation facilities. Combined with community-driven and professional year-round programming, these facilities will promote a degree of excitement, individual expression, exploration, and accomplishment leading to an enhanced quality of life for the community of Mammoth Lakes.
This project is scheduled to be installed and the Town is looking for volunteers. Based on the current schedule for the site work and removal of the existing playground, the 'supervised' community build is scheduled from June 11 – 22, 2018.
If you can volunteer 2-4 hours of your time, please register online HERE. For each shift worked, every volunteer receives a custom T-shirt, lunch and a chance to win great raffle prizes such as a 32" LED TV, 3-day 2018 Bluesapalooza passes, Whitmore Pool passes, restaurant/retail certificates, and more!
If you are unable to volunteer for the community build, you can always make a donation to the Mammoth Creek Park Inclusive Playground and be an integral community supporter.
Thank you for your generosity and enthusiasm for the Mammoth Lakes Community!