Juan Vierheller, a 27-year-old man from La Habra, is still missing in Mono County. There is now a $5,000 reward offered for finding Juan.
He was last seen in the early morning hours Friday, May 13 at a campsite near the shore of Beaver Cove at Crowley Lake.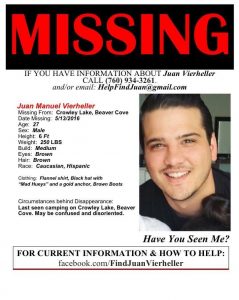 Volunteers are needed to continue the search. Volunteers are urged to be at Footloose Sports in Mammoth Lakes Thursday, May 19 between 8 a.m. and 9:30 a.m. and will be assigned an area to search.
Bikes will be provided if needed. Please bring your own hiking gear, water, binoculars, snacks and cell phone.
Also, two drones are available to fly over the area but pilots are needed. If you know how to fly a drone and would like to help please be at Footloose in the morning.
For more information, please call Fred Vierheller at 714-319-6133.