Vivienne aka (Bim) went to join the Angels on Thursday, September 26 at 11:24 p.m.  She was truly an angel and will be missed by family and friends alike.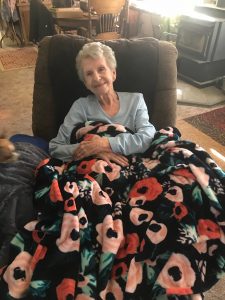 She was born Vivienne Doris Chance on November 13, 1923 to Charles Thomas Chance and Clara Lurette (Crocker) Chance in Big Pine, CA.  She was a lifelong resident of Big Pine, graduating from Big Pine Unified School District. She was once even the May Day Queen. She met her husband Hershel N. Bice while waitressing at her mother's café.  Hershel was with the army recovering bodies from a plane crash in the Sierras. They were married in 1945 and had five children. 
Vivienne worked at Northern Inyo Hospital in the Dietary Department for many years. She wanted to work closer to home and then worked in the Dietary Department at Big Pine Sanitarium until retiring from the County of Inyo at 62 because of Hershel's declining health.  Hershel passed in February 1989. She remarried a lifelong friend Archie Welch in August of 1991 and they had a wonderful 13 years before his passing.  
Bim is survived by her sister Marianne Imus of Fontana, CA., daughters Dianne Bice-Bolander of Ridgecrest, CA., Shirley Booth of Brownwood, TX., Marilyn Brolsma (Larry) of Bishop, CA., Carolyn Redden (Scott) of Big Pine, CA., step-son Gary Welch of Missouri as well as Janet Pettet beloved friend of the family that she considered to be one of her daughters. Six grandchildren, eight great-grandchildren and many nieces and nephews.  She was preceded in death by both parents and husband's, stillborn daughter and step-son Bill Roberts.
There will be a family viewing on Friday, October 4th at Brune Mortuary at 3:00 p.m.  Graveside services will be held at Big Pine Cemetery on Saturday, October 5th at 10:30 a.m. Janet Pettet and Duane Rossi officiating. Potluck to follow, location announced after service.