"By Christmas, you'll see a vibrant Village similar to the past." That's what Mammoth Attorney Rick Wood said about continuing negotiations among tenants and owners at the Village at Mammoth.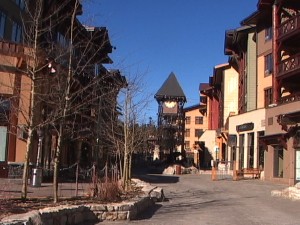 Wood said that all parties have reached agreement on some terms. "We're working out the specific leases," he said. Wood represents some 15 Village tenants. "We remain very optimistic," he said, "that all will be put in place."
Wood also said that a lot of things are coming forward like new tenants in the Village. "We're about to turn a corner," he said. Another component viewed as key by tenants – Mammoth Mountain will occupy some Village spaces.
Ski Area CEO Rusty Gregory had also assured that the Mountain would build the Ski Back Trail in the Village vicinity this year and cut a deal to manage the surface parking lot critical to Village customers.
"We've come a long way," said Wood. The attorney said the Village could have failed, but now it's moving toward the publicly stated goal to be 90% leased out by winter.
The return of vitality has also generated more interest in the Village with dramatic price slashes and sales on remaining condo units.