After close to two years of negotiations, the owners and tenants of the Village at Mammoth have reached resolution of their disputes. Attorney Rick Wood said of the agreement, "The new leases provide for sustainable rent. Businesses are not just going to survive, but thrive."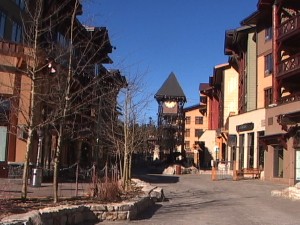 Many businesses moved out of the Village, unable to afford the rents. Mammoth Mountain Ski Area moved out of Village-owned spaces and into its own. Negotiations to resolve differences started in January of 2008.
Attorney Wood said Thursday that the final resolution of the Village lease disputes and negotiations is "being concluded. Documents will be signed in the next day or two." Wood said that long-term lease agreements will be entered into by his 13 clients, 6 others and 2 Ski Area businesses.
Wood concluded that the Village is going to be more alive in the future than in the recent past. "The new Leases," he said, "provide for sustainable rent." Wood credited all involved, including Village owners – CNL and Intrawest, who, he said, "were motivated to allow the tenants to be successful."
One other critical element – parking – is also on the way. Wood said that Mammoth Mountain is very close to an agreement with parking lot owners, Credit Suisse, to manage the lot as a working facility.
New tenants are also expected to move into the Village, with a strong rumor that a business plans to occupy the former Hennessey's space, an anchor position.