When the worst happens – disastrous fires, earthquakes, floods, pandemic flu – the key to getting through it is communication. Now, all California counties will operate special teleconferencing equipment from the California Emergency Management Agency to provide a video link to the State or other counties. Inyo County is on board.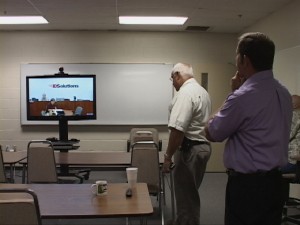 Sheriff Bill Lutze and Lieutenants Keith Hardcastle and Randy Geiger were on hand to demonstrate the new technology that will defy other communication failures, and in fact, create almost face to face links. As a demonstration, Sheriff's officers tapped into ID Solutions in Indianapolis, Indiana. I asked Sheriff Lutze what would happen in the event of a major disaster that involved both Inyo and Mono counties.
"We would be able to look at both Emergency Operations Centers (EOC). Mono could look into ours, and we could look into theirs in real time," said the Sheriff. He said that the system allows hooking up of lap taps so both ends could view assignment of personnel. "It's face to face – just like we were sitting in each other's EOC."
The Independence Sheriff's Office also serves as the Emergency Operations Center for Inyo County. Installation of the big screen teleconferencing equipment will allow immediate emergency communication.