In Bishop, a routine police call to roust a drunk from a local bar ended up on the widely viewed website, YouTube. The headline on the short video says Police Officers Assault and Forcefully Arrest Nonresistant Man. Local police said the headline misrepresents what really happened.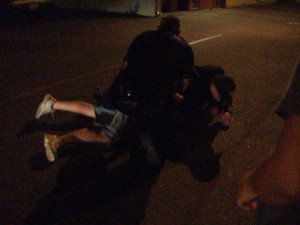 Sylvia Cortez, who became a familiar name during the Joshua Loy case, posted the arrest video, that she shot, on YouTube. Cortez, sister to Loys girlfriend, revealed her disdain for local law enforcement in letters to the editor and now with a video.
Cortez alleged that she, her mother, sister and Joshua Braley were having some drinks at Rustys and had walked out to go home when police ran at us in the dark alley. Cortez alleged that police tackled Braley for no reason and dislocated his shoulder.
Bishop Police Lt. Chris Carter, aware of the video on YouTube, described the situation in Bishop as police responding to a call about an unruly man who posed a threat. He said that Rustys Bar called police to help force a drunken man out of the establishment. The Lieutenant said that Braley had refused to leave, was escorted out by the bar bouncer but kept returning and pushing people away who tried to get him to leave. That's when police arrived.
Lt. Carter said Braley refused to cooperate and was very intoxicated. When he wouldnt leave and refused to put his hands behind his back, officers took Braley to the ground. Lt. Carter said the way the man fell apparently caused a separated shoulder. Bishop Police made medics available when they realized Braley was hurt.
The Lieutenant said no complaint has been filed against officers. Carter said when police became aware of the video of the police, they reviewed it and concluded that all of the officers involved performed within policy and did a good job taking the man into custody.
Inyo Sheriff Bill Lutze said one of his men responded to back up police. Sheriff Lutze said officers were trying to control the drunken man and finally took him into custody. The Sheriff said that Joshua Braley is now in jail for bad checks and probation violation following the incident at Rustys. He called the bar arrest nothing out of the ordinary.
The Inyo District Attorneys office said that Braley had been on probation for felony unlawful intercourse and some misdemeanors prior to the recent incident.