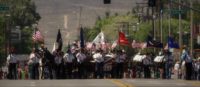 APRIL 8, 2022 – UPDATE FROM THE VFW – Due to some outside circumstances, we had to change the date of the District 3 Townhall to Monday, April 18th, 6-8pm.  Nothing else has changed for the structure.  
Post 8988 will be hosting a townhall for the District 3 Inyo County Supervisor candidates on April 14th from 6-8 PM.  The structure will be the same as the recently held Sheriff candidate townhall.
Each candidate will be given 5 minutes for an opening statement to introduce themselves and to say why they are running for the seat.  At the conclusion of the opening statements questions developed by the veterans will be asked of each candidate.  Each candidate will have 2 minutes to respond.  At the end of a short break from the veteran's questions, the public will offered the opportunity to ask questions.  The questions from the public will be given to the emcee to read.
Come listen to your candidates and prepare some questions for them. Thank you so much for all your participation. The VFW will be streaming this again but encourages you to attend in person if you are able.