Want to add a pet to your household? The animal shelters of Inyo and Mono have lots of beautiful dogs and cats for adoption.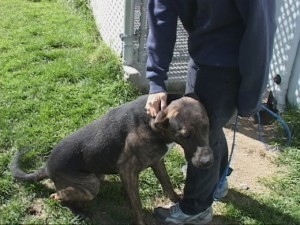 At the Inyo Animal Shelter outside Big Pine, Julie Laughon said they remain full as always. Choose a pet from a huge selection of adolescent cats plus a cute five-pound female Chihuahua, a beautiful eight-year-old chocolate lab mix called Brownie and a two-year-old Husky mix with pretty blue eyes.
At the Mono Animal Shelter out Benton Crossing Road, Rebecca Bone says they have lots of great dogs, cats and kittens. Consider adopting one-year-old Tucker, the lab mix; two-year-old Red Dog, a Chow mix; Beau the husky and Rico a Boxer mix – both one-year-olds.
More animals available in the Bridgeport shelter. Please check them out.