News release
On the morning of Wednesday, August 23, 2017, Mono County employees discovered graffiti on the exterior wall of the bathrooms at the Bridgeport Ballfields. The vandalism covered an entire wall and had been committed after 4:30 pm on the day prior.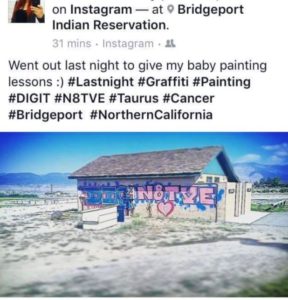 At nearly the same time as the vandalism was reported, the Mono County Sheriff's Office became aware of a social media post, including a photo, claiming responsibility for the graffiti.
Deputies conducted a follow-up investigation to the last known residence of the social media poster. Two people fled out a back window and ran into the sagebrush. Responding law enforcement quickly established a perimeter, and the two people who fled were located hiding in the field. One of the people detained was Lorena Holdaway, 21 years old, of Bridgeport.
Holdaway is the person who posted about the vandalism on social media. The other person could not be connected to the vandalism. Holdaway was booked into the Mono County Jail on one count of Felony Vandalism and an unrelated Felony Warrant issued out of Ventura County.