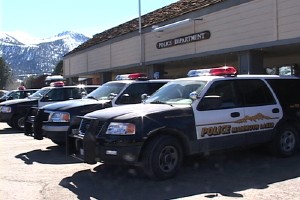 According to Mammoth Lakes Police, Bryan Batterman was arrested on December 21. At about 11:20 pm, MLPD officers responded to Mammoth Mountain Inn for an intoxicated man who did not know where he was staying. He told MMSA security officers that he wanted to "hit someone."
Officers said Batterman was drunk in public and unable to care for himself. The officers used his cell phone to locate his brother-in-law who was also staying in Mammoth. As Batterman was being transported, he became verbally aggressive and combative. The transporting officer determined that it would not be prudent to release him given his agitated state, and arrested him for 647F PC (Drunk in Public).
When they arrived at the police station, officers said Batterman refused to get out of the police car and had to be forcibly removed. They said he kicked a police car causing damage, and kicked an officer in the leg, causing an injury. Batterman was subsequently transported to Mono County Jail and booked for Felony Vandalism, Battery on a Peace Officer, Resisting Arrest, and Drunk in Public.
In a separate case, Miguel Guarneros was an employee of Mountain Plumbing Services. MLPD officers responded to the business on Dec 27 and met with Mike Hicks who suspected that his employee, Guarneros, had forged company checks and fraudulently used the company's credit card. Officers said the investigation revealed that Guarneros had forged two checks made out to himself totaling over $1400 and had used a company credit card to make unauthorized purchases totaling over $200. Guarneros was arrested and booked for forgery, burglary and embezzlement.