Roger Dale Van De Stroet, better known as Roy, was our beloved son, brother, uncle and friend. In his 58 years of life he enjoyed the good things – food, great fishing and the beauty of the great outdoors.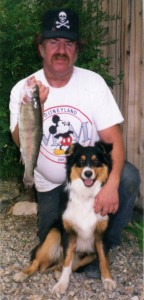 He took his final breath and ended his battle with cancer on March 19, 2016 in Bishop, surrounded by his family.
Roger was born September 19, 1957 in Canton, South Dakota to parents Harry and Josie Van De Stroet. He moved to Lakewood, California in 1962 and graduated from Excelsior High School in Norwalk, California in 1976.
After many vacations to the Eastern Sierras, he moved to Bishop, California in 1994 and worked for Steve's Auto for 20 years.
His best friend for most of those years was his beloved Australian Shepherd dog, K.C. They could often be found on the back roads and streams of Bishop walking and enjoying the quiet of each day together, or fishing their secret spots.
Roger was the best of fishermen who always caught something, even when the fish weren't biting. His favorite trips were his two fishing trips to Alaska. He also loved riding his motorcycle. He was funny, kind and helpful to everyone and was the kind of friend and neighbor you could count on.
Roger is survived by his father and mother, Harry and Josie Van De Stroet of Bishop, CA; sister and brother-in-law, Kathleen and Delmar Punt of Visalia, CA; nephew Eric Punt of Campbell, MN; and niece Jennifer Corum of Visalia, CA.
A private family service was held March 23, 2016 in Bishop, California to honor his memory. May he rest in peace in the loving arms of Jesus.